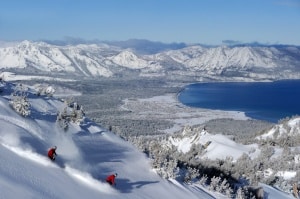 The Sierra Nevada just received two feet of fresh snow and is expected to get another foot or two this weekend!  Enjoy the snow and all there is to do off the slopes in Lake Tahoe.  Looking for Tahoe vacation rentals or vacation ownership?
Buy a Lake Tahoe Timeshare
Paradise Timeshare Resale is the authorized broker for Marriott Vacation Club.  There are two beautiful Marriott resorts in South Lake Tahoe, both right next to the Heavenly Gondola which will get you on the slopes in minutes!  Stay in the exciting Heavenly Village with shops, restaurants and nightlife, and enjoy world class skiing, all outside your door.  Check out our listings at the Marriott Grand Residence and Marriott Timber Lodge.
The Ridge Tahoe is a mountain top resort adjacent to the Heavenly Mountain Resort. The slopes are just steps away from the resort.  All of South Lake Tahoe's timeshare resorts are close to skiing and nightlife, for a list, visit this link: South Lake Tahoe Timeshares.
On the North Shore, Mt. Rose, Northstar and Squaw Valley all have world class resorts next to their world class skiing!  You will find great timeshare resale prices at the Hyatt Northstar Lodge, Hyatt High Sierra, the Olympic Village Inn and Red Wolf at Squaw Valley.
Rent a Lake Tahoe Timeshare
Not ready to commit to vacation home ownership?  No worries, we have an extensive list of timeshare rentals at resorts right in the heart of ski heaven.
With all of this great new snow, no time like the present to visit Lake Tahoe! Spend the holidays at the Marriott Timber Lodge Dec 25-Dec 28 or January 1-8; Lake Tahoe Vacation Resort Dec 20-27, Ridge Sierra Dec 19-26, Hyatt High Sierra Dec 26-Jan 2, or David Walley's Dec 27-Jan 3.
Rent, or buy, or have questions? Give us a call at 800-996-2001 and get on the slopes to enjoy this fabulous powder!