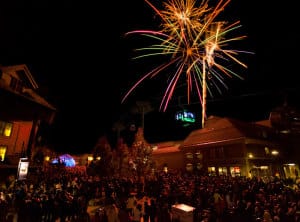 Come join in the year-end fun at Lake Tahoe with these fantastic vacation rentals.  The snow is now falling and the ski resorts are all getting ready for you to enjoy the slopes or a hot toddy in the lodge.
Lake Tahoe Vacation Rentals
Whether you're hitting the slopes, enjoying the Snow Globe vibe, trying your luck at the casinos, or just relaxing with the family, Lake Tahoe has something for everybody
Enjoy Heavenly Holidays all month long at Heavenly Village, culminating with fireworks and a "gondola drop." The new Loft is opening right upstairs from our office. There you'll find almost nightly illusion shows, an exclusive lounge and Italian dining. There is so much to enjoy on the South Shore that you'll want to stay longer, or start planning your next vacation in Lake Tahoe!
Our Lake Tahoe vacation rentals put you right in the middle of the action while they also offer you peace and quiet, surrounded by snow.  You can enjoy great amenities all day, and night, long when you rent a timeshare!  They offer so much more than just staying in a motel, like home away from home where you can enjoy family, kitchens, hot tubs and even a pool, all while having front desk staff to help you with all of your needs.
Check out these great resort rentals offered by Paradise Timeshare Resale.
Lake Tahoe Vacation Resort Christmas 2BR/2BA December 20 – 27 $1,800
Ridge Sierra Christmas/New Year's 2BR/1.5BA December 25 – January 1 $1,400
Ridge Sierra New Year's 2BR/1.5BA December 26 – January 2 $1,400
Hyatt High Sierra Lodge New Year's December 26 – January 2 $3,900
David Walley's New Years 2BR/2BA December 27 – January 3 $1,500
Buy a Lake Tahoe Timeshare Resale
Why worry about renting each year when you can own your own Lake Tahoe vacation home!  Timeshare resales will save you money, and when buying from the trusted resale expert, Paradise Timeshare Resale, you know you'll be taken care of.
Stop by our office located in the Heavenly Village in South Lake Tahoe, or call 800-996-2001.