Tahoe Beach Club
Tahoe Beach Club is the first full-ownership Lakefront community approved on Lake Tahoe in over 30 years. The truly rare private setting features unparalleled panoramic views, a private sand beach, 300 acres of beautiful National Forest meadows to the north, and to the south, the renowned 250 acre Edgewood Golf Course.
Tahoe Beach Club will consist of 143 Luxury Condominium Residences, each designed with Lake Tahoe in mind. Exterior features include Modern Mountain styling with oversized terraces, exposed wood, stone and glass elements. The 2, 3, 4, and 5 bedroom Residences will range from approximately 1,000 to over 4,000 square feet and will feature natural gas fireplaces and luxurious state-of-the-art interior finishes. Pricing ranges from $1MM+ – $4MM+.
Tahoe Beach Club – Your Home at the Lake
Tahoe Beach Club is a rare and wonderful four-season community on the east shore of America's most iconic lake.
You'll be excited by the famed location, then fall in love with the welcoming community, the world-class amenities, the friendly and almost familial staff, the Club's steadfast stewardship of the Tahoe Basin's natural beauty.
You'll awaken every day grateful for the fact that only a few will ever enjoy this combination of home and access to the lake.
You'll feel the luxury of pure, casual comfort in a Beach Club designed by renowned architect John Sather of Swaback Partners.
And beyond the invitation to savor every experience, more than the opportunity to fully enjoy every moment, you'll love Tahoe Beach Club for what it really is: a place of calm and personal clarity on the shores of this transparent, transcendent lake.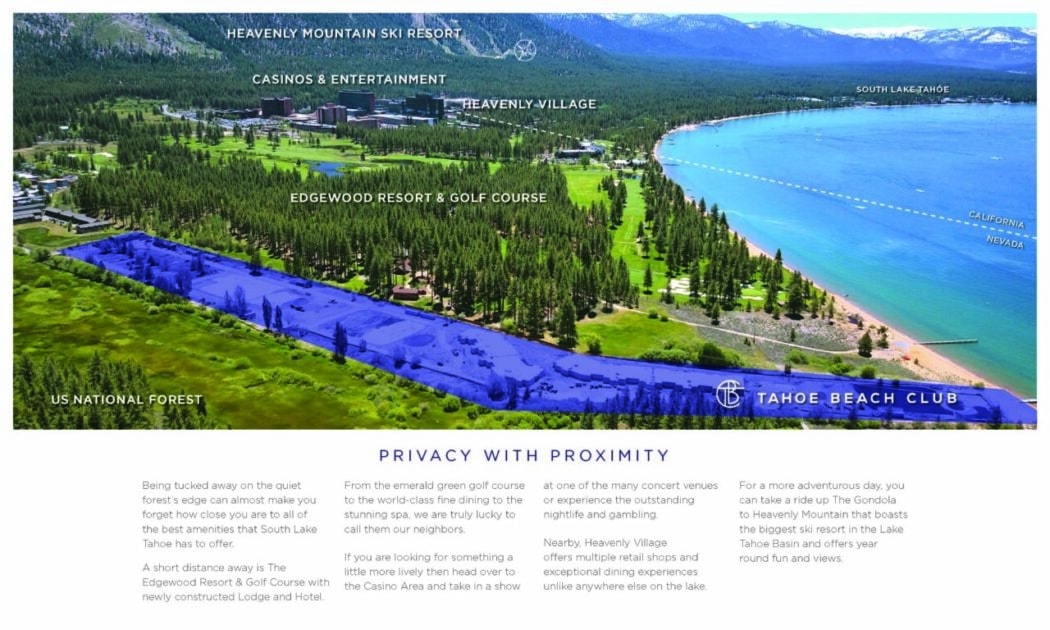 Beach Clubhouse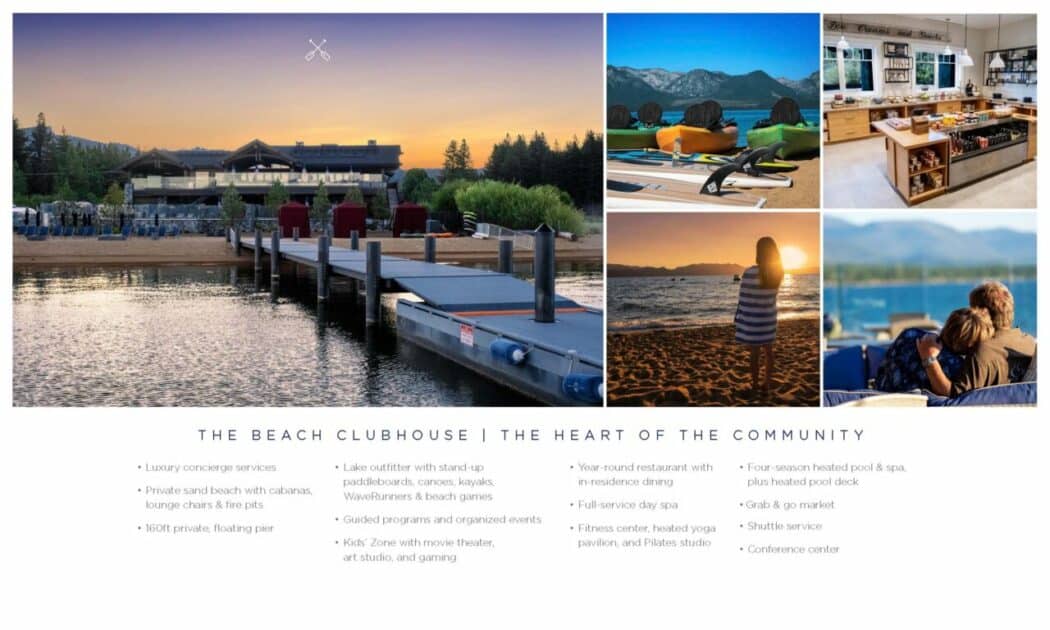 Reservation Program
• $10,000 fully refundable deposit
• Reservations are numbered as they are received
• Reservations are not unit specific, but allow you to select a Residence based upon the reservation number.
To learn more about this unique ownership opportunity or to initiate a reservation, e-mail us or call Carl Thoms, Owner/Broker, at 775-771-5612.