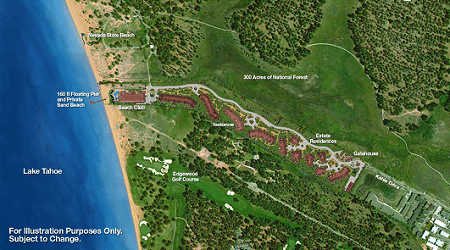 Tahoe Beach Club is the first full-ownership Lakefront community approved on Lake Tahoe in over 30 years. The truly rare private setting features unparalleled panoramic views, a private sand beach, 300 acres of beautiful National Forest meadows to the north, and to the south, the renowned 250 acre Edgewood Golf Course.
Tahoe Beach Club
This exciting new venture will consist of 143 Luxury Condominium Residences, each designed with Lake Tahoe in mind. Exterior features include Modern Mountain styling with oversized terraces, exposed wood, stone and glass elements. The 2, 3, 4, and 5 bedroom residences will range from approximately 1,000 to over 4,000 square feet and will feature natural gas fireplaces and luxurious state-of-the-art interior finishes. Pricing ranges from $1,000,000 to $4,000,000 and above.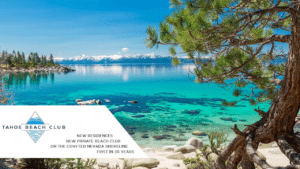 The Phase I 'Founder's Offering' will consist of 48 premium residences located nearest the lake and adjacent to the 32,000 sq ft lakefront Beach Club. The generous incentives during this stage will be limited to only those who purchase a Phase I residence.
FOUNDER'S PHASE 1 OFFERINGS:
10% Discount on any Phase I residence
BEACH CLUB CREDIT
$12,000 first year Beach Club Credit ($3,000 / quarter) that is accepted at our Dining and Bar, Spa and Beach Club Activities, Merchandise
ADVENTURE SKI PACKAGE
Epic Ski Passes or equivalent
2 per two bedroom residence
4 per three bedroom residence
6 per four bedroom residence
8 per five bedroom residence
Equivalent Edgewood Golf Package
Equivalent Surf Air Package
FOUNDER'S BEACH CLUB PACKAGE INCLUDES 2 MEMBERSHIPS
Founder Membership Retained for life, even after the sale of a unit if Member is in good standing
One additional membership for the member to gift for up to 1-year without initiation fee
ADDITIONAL BENEFITS
Private wine locker at the Beach Club for 1st year
Priority position on all future offerings
Exclusive Founder's Event
Paradise Timeshare Resale
To learn more about this unique ownership opportunity as well as the fully refundable reservation process, please fill in the contact form or by phone Carl Thoms, Owner/Broker at 775-771-5612.