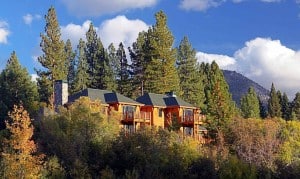 If you enjoy the cool, crisp mountain air and you like to experience the majestic beauty of Lake Tahoe without all of the crowds, here are some fall blowout specials that you can't pass up. Own a Hyatt High Sierra Lodge timeshare resale, and stay for a whole week for free this fall!
Hyatt High Sierra Lodge Sale
Nestled in the Sierra Mountains on Lake Tahoe's North Shore, the Hyatt High Sierra Lodge provides luxury accommodations and the perfect vacation opportunity. This 5-Star resort is first class in every detail. The beautifully appointed two-bedroom, two bath units are fully equipped to provide residential-style vacation accommodations. Relax in the large living room with natural gas fireplace, sofa bed, private balcony, TV, VCR, stereo and CD player. The master suite has a king-size bed and whirlpool spa. The guest bedroom has two double beds and a full bathroom. There is a complete kitchen and separate dining area.
Enjoy all of that with these special deals.
All of the prices below include both a free usage week as well as the Hyatt Gold Passport Option:
Week 42 Unit 114 October 15-22, 2016  $2,500
Week 44 Even Unit 212 ADA October 29 – November 5, 2016 ONLY $750