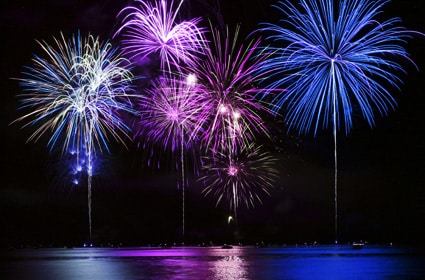 Voted the top fireworks show west of the Mississippi, South Lake Tahoe knows how to put on a great 4th of July spectacular. Spend a day on the shores of the beautiful alpine lake and spend the evening watching a fireworks display that is synchronized to music on local radio stations.
Lake Tahoe Vacation Rentals
At Paradise Timeshare Resale we have a great selection of timeshare rentals over the popular 4th of July week!  The best place to watch the fireworks from is the beach, and these rentals are on the beach:
Tahoe Beach & Ski 6/29 – 7/6/13
Lake Tahoe Vacation Resort 6/30 – 7/7/13
And here are some timeshare rentals in Lake Tahoe that aren't far from the beach:
Perennial Vacation Club 6/29 – 7/6/13
Perennial Vacation Club  6/29 – 7/6/13
And if you can't get enough of Lake Tahoe we have more rentals available this summer.
Lake Tahoe Activities During the 4th of July
Of course, as mentioned, there is the 4th of July fireworks display.  If sitting on the beach isn't for you there are some great options to watch the show.  Ride a paddle wheel boat as it parks right under the fireworks, enjoy dinner at Edgewood Tahoe or just buy viewing tickets for their great location.
During the week there are also 3 Farmer's Markets, the Rollling Thunder Car Show, outdoor music at several locations, Shakespeare at Valhalla, Taylor Creek Visitor's Center ranger programs and outdoor shows, craft shows and the casino area entertainment.
Book your Lake Tahoe Trip
Ready to visit Lake Tahoe?  Contact us by email or phone at 800-996-2001 and we'll get you started with your timeshare rental for the 4th of July or any other time.