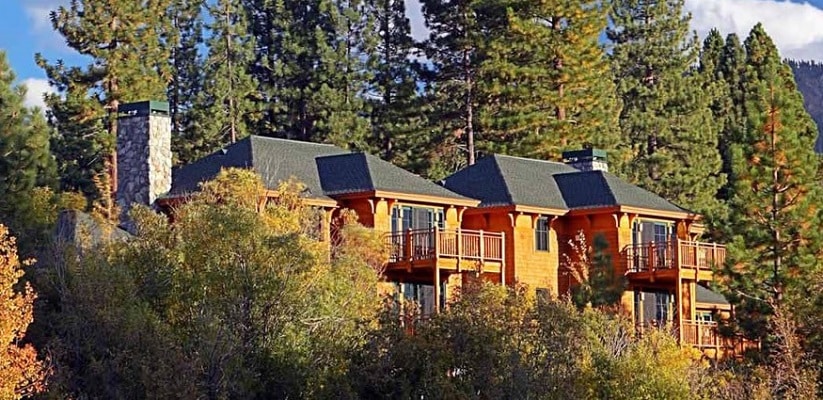 An HOA deficiency foreclosure auction of Hyatt High Sierra Lodge timeshares will be held on August 1, 2016 at 11:00 a.m. in Reno, Nevada. If you've dreamed about owning a Hyatt timeshare at Lake Tahoe, there will never be a better time to pick one up at a rock bottom price. If you're already a Hyatt owner, this is a great opportunity to pick up additional points for a fraction of the resale market price. Here's a sampling of what's going to be auctioned off at an opening bid price of only $1,900.
Diamond Week 52 (New Year's) Unit 213 2,200 Points
Gold Week 5 (February Ski Week) Unit 523 1,880 Points
Silver Week 36 (Second Week of September) Unit 114 1,400 Points
Bronze Week 15 (Second Week of April) Unit 531 1,300 Points
Copper Week 48 (Week after Thanksgiving) Unit 314 1,100 Points
Hyatt High Sierra
Why own a timeshare at the beautiful Hyatt High Sierra in North Lake Tahoe?  There were three reasons…Hyatt, Lake Tahoe, beautiful!
This 5-Star resort is first class in every detail. The beautifully appointed two-bedroom, two bath units are fully equipped to provide residential-style vacation accommodations. Relax in the large living room with natural gas fireplace, sofa bed, private balcony, TV, VCR, stereo and CD player. The master suite has a king-size bed and whirlpool spa. The guest bedroom has two double beds and a full bathroom. There is a complete kitchen and separate dining area.
The Hyatt High Sierra Lodge is just steps away from the Hyatt Regency Lake Tahoe Resort and Casino where shared amenities are abundant. Enjoy superb dining at four restaurants including the stunning Lone Eagle Grill right on the beach, 24-hour casino gaming and a full service health spa. High Sierra Lodge ownership carries with it beach usage rights to the private Hyatt beach as well as the private Incline Village Ski Beach. Nearby to the resort you will find world class skiing, breathtaking hiking, mountain biking, and two championship golf courses.
For the complete legal notice as well as the entire list of foreclosure units please fill out this form