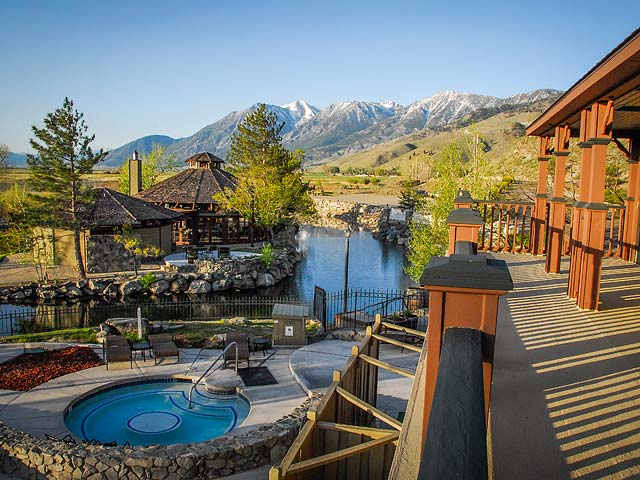 David Walley's Resort is located at the base of the Sierra Nevada in the town of Genoa just minutes from Lake Tahoe.
Famous for beautiful views and hot springs, the resort is a favorite among those looking for a beautiful timeshare in a breathtaking setting.
Travelers have found this resort as a place to unwind and relax since the days of the Pony Express and the Gold Rush.
Nevada Historical Hotel
Walley's was built in 1862 by David and Harriet Walley.  At that time it was a 40 room hotel with an elegant ballroom, 11l bathrooms,  a large stable and several bathhouses with a resident physician and masseur. It cost $100,000 to be built!  The restaurant catered to the palate with "all substantial and every delicacy in season."
The baths were famous and said to cure everything from sore muscles to rheumatism. The famous, the not so famous and the disappointed miners all found something magical about the hot mineral baths. Presidents Ulysses S. Grant and Teddy Roosevelt, Mark Twain, Clark Gabel, Ida Lupino, Carol Lombard and Ray Bolger all visited David Walley's over the years. The hotel, built for $100,000 in 1862 was sold by the couple's heirs for just $5,000 in 1896!
David Walley's Resort Hot Springs & Spa
Even though 151 years have gone by, David Walley's is still known as an elegant spa, luxury resort and find dining establishment.  It is a year-round retreat offering the perfect getaway for all ages. One can relax in the on-site hot springs mineral pools, enjoy a spa treatment, splash around in the swimming pool or take a scenic drive through the mountains for area skiing, casinos and more.
Besides the hot springs there is a swimming pool, dry saunas, steam rooms, fitness rooms and much more.  Their new restaurant, 1862 Restaurant & Saloon is a local favorite.
Timeshare Resale at David Walley's
Paradise Timeshare Resale has several listings for this luxury resort luxury resort at prices more that 75% below developer levels.  David Walley's features studios, one bedroom, and two bedroom suites. If you are looking to sell your David Walley's timeshare we have a steady supply of customers looking to purchase at this fine resort. If you'd like to know more about buying or selling at David Walley's Resort (or any other timeshare resort), please give us a call today at 800-996-2001 or click here to submit an e-mail request.