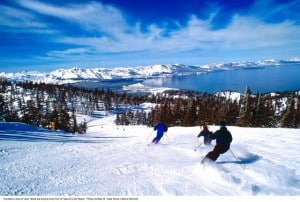 All ski resorts around Lake Tahoe are now open for the season!  While they all still need some big storms to get all runs open, snow making has given most of the resorts some great powder conditions.
South Shore Skiing
On the southern shore of Lake Tahoe you'll find Heavenly, Kirkwood and Sierra at Tahoe ski resorts.They all offer beginning to expert runs and some great scenery.
We have some great deals on timeshare resales right near the South Lake Tahoe resorts.  The Ridge Tahoe and Tahoe Seasons Resort are just steps away from the slopes and the Heavenly Gondola is right at the Marriott Timber Lodge and Grand Residence resorts.  You can even find a vacation rental that gives you great access to skiing in Lake Tahoe.
North Shore Skiing
The northern shore of Lake Tahoe has some world class skiing as well, and is home to the 1960 Winter Olympic home Squaw Valley.  Besides Squaw you'll be able to ski at Alpine Meadows, Homewood, Northstar, Mt. Rose and Diamond Peak.
Our timeshare resorts near these ski resort include Hyatt High Sierra (near Mt. Rose and Diamond Peak) and Squaw Valley's Olympic Village Inn and the Red Wolf Lodge.  No matter where you want to ski, you'll be near one of our resorts in North Lake Tahoe.
Ski Lake Tahoe Every Year
If you'd like more information about where to buy a timeshare near a ski resort, contact us by email or call 1-800-996-2001. Our friendly staff members are also seasoned skiers and long time locals so they know all the great Lake Tahoe information.