If you've been waiting for new snow to fall in Lake Tahoe before you visit, now is the time to head up to the mountains!
South Lake Tahoe and Heavenly Valley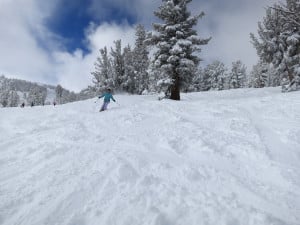 South Lake Tahoe's world class ski resort, Heavenly Mountain Resort, is celebrating 24″ of fresh snow this week. More terrain and lifts have opened and things are looking up with snow expected several more times in February.  No matter if its skiing, snow shoeing, sledding or reading a book by the fire, Lake Tahoe has what you're looking for.
Stay in our timeshare rentals this winter and enjoy excellent accommodations while vacationing in Lake Tahoe. The Ridge Tahoe is right on the slopes of the Nevada side of Heavenly. The Lake Tahoe Vacation Resort is on the lake just down the street from Heavenly.  The Marriott Grand Residence and Marriott Timber Lodge resorts are at the base of Heavenly, just steps away from their Gondola.
Lake Tahoe Vacation Resort – Stay February 14th to the 21st or Feb 15th to the 22nd.
Marriott Grand Residence – Stay February 14th to the 21st or March 14th to the 21st.
Marriott Timber Lodge – Stay March 16th to the 23rd.
North Lake Tahoe, Squaw Valley and Northstar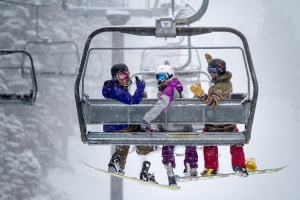 The north shore has been seeing a lot of visitors this week, all those that have been waiting for snow to fall in Lake Tahoe again.  Northstar is owned by Vail Resorts, the same company that owns Kirkwood and Heavenly.  They also received two feet of snow so more runs are now available for skiers and boarders.
World Class Squaw Valley, home of the 1960 Olympic Games is another fabulous resort that offers skiers and borders some of the best terrain you'll even go down.
There are luxurious lake front accommodations at the north shore where you can rent a timeshare.  The Hyatt High Sierra has beautiful rooms, a perfect place to relax after a day on the slopes.  We don't have a winter rentals available at the moment, just summer, but call us and we'll try to find you one!
Ready to Hit The Slopes?
Call our timeshare resale staff 7 days a week at 1-800-996-2001 or email us if you'd like to hear more information about vacationing in Lake Tahoe, either for a week or annually.