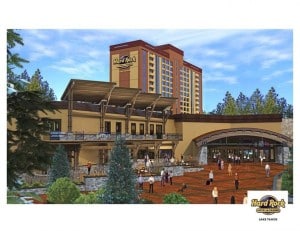 If you've been to South Lake Tahoe in the last few months you've most likely seen a lot of change.  The Chateau project near our office, which was a big open hole for years, now has a very nice looking retail front set to open this week. Retail areas like Harrison Avenue are getting revamped and empty buildings are getting new tenants, and that includes what was known as the Horizon Casino Resort.
Hard Rock Casino and Hotel
The Horizon's owners have hired a casino management company from Las Vegas to recreate the run down resort and to run the operations.  They are going to reopen as the Hard Rock Casino and Hotel by the end of 2014 or beginning of 2015. Hard Rock Lake Tahoe is undergoing $60M in renovations and redesign that will highlight rock and roll and will also serve as a live music venue. "The Hard Rock Hotel & Casino brand has music infused in its DNA and is known for celebrating individuality and uniqueness, which makes it a perfect fit for South Lake Tahoe," Jon Park of the Park family said in a statement. The new local venture will have 500 hotel rooms, gaming tables, slot machines several new bars and restaurants and outdoor and indoor concert space.
Lake Tahoe Timeshares
The new hotel will be close to several South Lake Tahoe timeshares, giving you even more to look forward to when vacationing at the lake.  The Marriott Grand Residence and Marriott Timber Lodge are just down the street as well as several others.